Meet the Artist – Louise Winter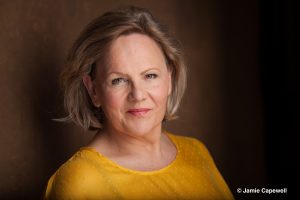 Who or what inspired you to pursue a career in music?
I would say at first it was Julie Andrews who inspired me, I went to see The Sound of Music and that was it! At first I wanted to be a nun (I was eleven at the time) but then realized it was the other thing… to be in theatre with singing. I distinctly remember at an even younger age of being taken to see a theatre performance of the Desert Song (Sigmund Romberg) in Preston and again it had a visceral impact on me. I wanted to be up there doing it.

How did you become a singer?
My family loved music but I had no real formal music education when I was young. At 13 I went to audition at Chetham's School of Music in Manchester and I sang a hymn for my audition! Ignorance is strength as it was scary and very tough as there were very few singers studying there at that time, mainly instrumentalists. I walked into the school with no formal education, but they saw a talent there thank goodness and I started from nothing. It was quite tough because I was suddenly boarding away from home. I was then fortunate as I was introduced to classical music by listening and going to see some of the greats in recital at the Free trade Hall in Manchester; Janet Baker, Joan Sutherland, Elizabeth Schwarzkopf. I also started to appreciate and recognize the artistry of lieder singers such as Fischer-Dieskau. At the age of seventeen I met Joseph Ward, who taught singing at the Royal Northern college of Music but came to Chethams to direct a group of us in opera scenes. He thought I should sing to Frederic Cox, who had trained him. An elderly gentleman near to retirement at college but who had taught many of the great singers who trained in Manchester and had international careers; Rosalind Plowright, Ann Murray, Ryland Davies, Anne Howells, Elizabeth Harwood. Mr. Cox had been the principal and founder of the original Manchester college years before.
I had a place at the Guildhall School of Music and also at the Northern but intuition felt I needed to study with Mr. Cox, so I stayed in the North. I had a big passion for theatre and being in Manchester.  I went to the Royal Exchange every month and seeing the best of the best was a massive pull, and the foundation of my beliefs that there is a need to combine singing with stage acting.
What was your first big break?
I auditioned for Glyndebourne after I was spotted at the Royal Northern College and got into the chorus. I was twenty-two. I stayed in the chorus at Glyndebourne for about three years and while there I was given amazing opportunities to watch and learn, understudy roles in the season and then performing them for Glyndebourne Touring Opera in the autumn. It was Glyndebourne who put me forward for the Opera Studio in London. I was in my early twenties but at that stage I felt too young and not vocally ready to take on the big roles like Octavian in Der Rosenkavalier.

You then went on to play some amazing roles. Which performances or recordings are you most proud of?
This is a hard one for me to answer because I'm so proud of so many of the roles I have sung. I'm very proud of doing Xerxes at ENO, following Ann Murray in the title role. I must have been thirty-one or two at the time and I was pregnant, and no one knew. Berlioz's music, Marguerite, Dulcinée and Beatrice. I sang 'the Lady' in Ernst Bloch's Macbeth in Frankfurt and I loved that role and production by Keith Warner. A little known opera gives you a freer rein to create without preconceived thoughts about how it should be sung or played. I also enjoyed delving into Wagner's music with Brangäne in Tristan und Isolde and then finally getting to sing Octavian in Der Rosenkavalier with Yvonne Kenny and Miah Persson for New Zealand Opera. I like it when I'm challenged dramatically as well as musically, that's what Opera is all about isn't it, the Arts coming together? It's not just about music; you have to know how to communicate the character. I've worked with some of the great directors including Trevor Nunn, Peter Hall, Nick Hytner. Keith Warner, and David McVicar. I am also proud of my recordings, La Mort de Cléopâtre (Berlioz) Frank Bridge's Songs with viola. Lots of BBC recordings. I did a wonderful Shostakovich CD with Mark Elder and the CBSO.
Who or what have been the most important influences on your musical life and career?
Presently I work with Linda Esther Gray who after retiring from the stage works as a singing teacher and Mentor. During the Pandemic I have been privileged to have time to work with Linda. Singing is not a detached thing it's very much part of your life. For me it is part of my soul. You must keep questioning what you are doing, and never stop being inquisitive. Twenty years ago, I pulled back in my career because of difficult life issues but now I feel vocally healthier than ever. Going through life's trials and broken relationships affects you and life's challenges can rock your self-esteem but when you come out the other side, you are stronger for it.
What have been the greatest challenges of your career so far?
I think learning a more contemporary score, Greek by Mark-Anthony Turnage was a challenge, but it also helped me to think out of the box! Then the other extreme of early music with a demanding conductor who has their own taste and expertise for the singer to navigate (Diana in Cavalli's La Calisto with René Jacob was a big learning curve!)
I think most people have a kick-start at the beginning of their career and then it plateaus. The singer has to adjust, cope with change and manage emotions when you are not as busy as you would like, which can be difficult. It's challenging being a singer, a mum and wife to another performer. You have to make lots of sacrifices which can be very tough.
What are your favourite roles to play?
Whatever I am doing at the time! Singing Gertrude in Hamlet by Brett Dean (Shakespeare and Opera – what more could you want?) Carmen, Dulcinea in Don Quixote, Marguerite in Damnation of Faust, Sesto, playing a man is great fun! These are all roles I have loved playing but I don't have a favourite. Once I'm performing that role it becomes everything. They all have different qualities.
As a singer, what is your definition of success?
When you can marry everything together. It's to do with being an artist…the package and being true to yourself at the same time. It's not about how much money you make, or where you are. It's about marrying all the arts together. Ultimately as a singer it's not about you but the music, words and interaction with others on the stage. There is always more to find in the roles.
During the Pandemic how did you keep busy when the theatres were closed?
As well as my own singing lessons, I did lots of online teaching. I think teaching is an important part of passing on what you believe in and I take it seriously. I was also preparing to sing Mistress Quickly in Falstaff at Scottish Opera. I am going back to sing in Puccini's Il Trittico, La Frugola in Il Tabarro and Zita in Gianni Schicchi. Then I have to learn some Czech for Háta in The Bartered Bride for Garsington
What was it like being back on stage after the pandemic?
It was emotional being back on stage after the lockdown. After the isolation it was quite overwhelming to be back working with a team of singers and preparing Verdi's Falstaff at Scottish Opera was quite thrilling. We had to be quite strict about distances as we worked and an awareness of the responsibility of staying safe when not working in the rehearsal space. We did the first performances outdoors which was a very different set up and a very different experience, using Mics too. The pandemic has been very tough on the Arts but personally has made me even more determined to carry on.
What do you consider to be the most important message to impart to aspiring singers?
The main thing is to not make a sound for the sake of making a sound. The sound must come from the thought, the breath and emotion. Your job is to allow the music to come off the page. You've got to do your homework around what you are singing and really know the background behind the music. So if I am singing a Brahms's Lieder it's not just the music and text, I need to try and steep myself in the context; when it was written, what styles and influences the composer was influenced by at the time. I would also say it's the singer's job to serve the music and not get wrapped up in your own sound.
Of course the quality of the sound is important but it's just part of the journey. There are a lot of technicians out there, manufacturing the sound and mimicking others but not listening to their real voice. Your instrument is servicing the music not the other way round. Don't be seduced by the sound or the space. It's about communication and trying to bring you, your unique self into the room.
What are you looking forward to in 2022?
As well this great opportunity in Il Trittico for Scottish Opera I am devising a series of concerts, music and readings with a professional actor Karen Drury – We want to get out there and entertain people. People need feeding. We've been starved of the Arts for too long. I'll continue working on my voice all the time but I think I am having lots of fun now that I'm older. And as I mature I seem to have opportunities to do those roles that demand more character and more humour in the process.