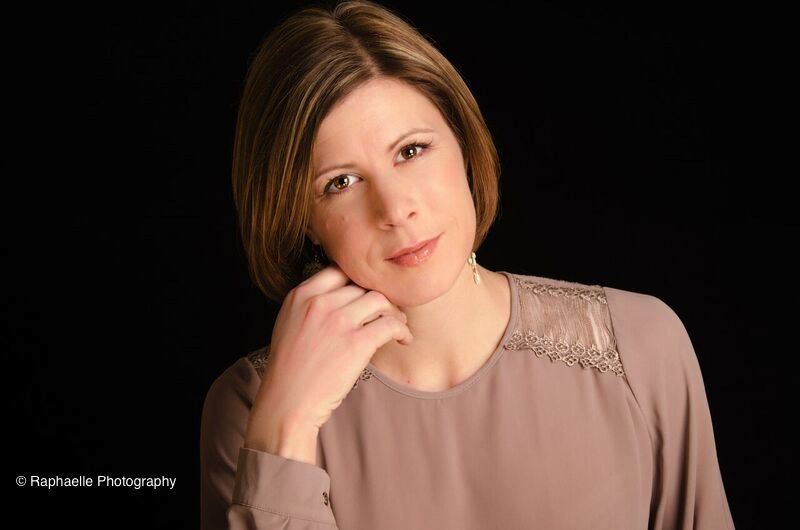 Gilliam Ramm in Interview
To celebrate the new release of the first ever recording of Thomas Arne's raunchy masterpiece The Judgement of Paris conducted by John Andrews, we have an interview with one of the soloists on the album, Gillian Ramm. She talks about discovering her voice in Australia, the challenges of maintaining an international career alongside family life, and her passions. Gillian has two children, lives in Brighton and is married to the baritone, William Dazeley.
1) What's the biggest challenge of being a singer and a mother?
Well. There are a few, and there are different challenges at different times. Mostly it's just getting enough sleep!! The early years are definitely physically draining so the challenge is finding enough time to keep nourished and rested so that you have the energy required for singing. It's amazing what a little adrenaline does, though. I remember touring with ETO as Vitellia in La Clemenza di Tito when my first child was six months old. There were some challenging performances but I had a very supportive cast, one of whom was also a young Mum. Other challenges include the inevitable juggling act between the home life and your work that I think all working parents face. You learn to be VERY savvy with your practice and learning time, grabbing any moment you can and not wasting a second of it. Being away from home is hard especially with two singers in the family.
2) You grew up in rural Australia and never heard an opera until you were 21. So how did you become a singer?
I grew up loving music and always wanting to sing at any opportunity! But we were on a farm in the middle of nowhere, rural Western Australia. I guess I practiced my projection in the middle of massive fields! I learned piano and sang in any school performance that was going, but they were few and far between. There was no choir or youth music education programme where I lived, but a lady moved to town in my final year of high school who taught singing. I started having lessons purely as a stress release from all my exam study and she was the first person to introduce me to an operatic aria. I had already planned to study Journalism at university so whilst doing that first degree I started going to the opera in Perth and having singing lessons privately. By the time I finished my BA I was hooked and decided on a whim to audition for the Conservatorium of Music. I didn't think I'd even get in, I was absolutely terrified at the audition, but they obviously saw something even in my raw state and the rest, as they say, is history.
3) What makes you happy?
The sea, green trees, my children, cooking, listening to beautiful music.
4) What are your passions in life?
I have always been very sporty but am recently becoming more and more of a yoga addict. I find it as nourishing for my mental health as it is my physical. I love getting outdoors for walks with my family. I don't find the time to read as much as I'd like to but have a big pile of books on the bedside table! I love fiction but also love non-fiction and any books to do with vocal anatomy/bodywork and the links between body and mind, the mind body connection. I am a bit of a voice anatomy geek I suppose and find teaching fascinating. I do a lot of voluntary work at my children's school and want to find more avenues for teaching and sharing music and the arts both with young children and people with Dementia. I am fascinated by the potential healing powers of music and the opportunities it affords for connecting with others. I think we are learning more about this as a society now and have only just cracked the tip of the iceberg in terms of how powerful it can be. I was even reading about programmes recently for Singing for Lung Health. How amazing is that? I like the idea of being involved in something like that in the future.
5) Career highlights.
I suppose the obvious answer is my debut at Glyndebourne as Fiordiligi in Cosi fan tutte. I was the understudy for the festival and ended up singing the Dress Rehearsal from the orchestra pit and then went on for almost every single performance in the Festival. It was a crazy, wonderful time. That role is VERY dear to my heart and I also had the amazing opportunity to sing it with the Budapest Festival Orchestra under Ivan Fischer as a last minute jump in once. I can't describe what it was like to sing Per Pieta with him conducting and that orchestra. I also have exceptionally fond memories of singing First Niece at ENO in David Alden's extraordinary production of Peter Grimes. Stuart Skelton was Grimes and the rest of the cast was extraordinary. It was just so viscerally exciting to be a cog in the wheel of something so epic. The cast and conductor were incredible, the chorus, orchestra, sets, everything. I know the production divided some critics and audience members, but to be a part of something bold, that's always going to stay in my mind. It's also one of my top 5 favourite operas. Ever.
6. If you could sing any role, what would it be?
I can't name one role I'd love to sing next. I'd love to do Governess in Turn of the Screw, and I've not yet sung Contessa. I'd also love to look at some Czech repertoire and maybe do more comedy! And more new music. And more female composers. Sorry, that's not a short answer!
7) What's next for you?
I'd love to do more concert work and get back into song recital. I loved lieder in my college days and haven't done enough recital work since leaving college. I adore it. I'd also like to get more sleep. Sleep is such a lovely thing, isn't it?
Thomas Arne's setting of William Congreve's The Judgement of Paris is out on Dutton Epoch now. It is conducted by John Andrews with The Brook Street Band. The cast includes Gillian Ramm as Juno, Mary Bevan as Venus and Susanna Fairbairn as Pallas. Tenor Ed Lyon perform the roles of the Shepherd Parish and Anthony Gregory as Mercury.
Available from Amazon