Meet the Artist – Daniel Auchincloss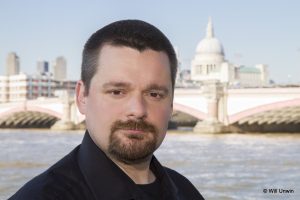 1.) What is the experience like being a cover at Royal Opera House?
I've now worked at the ROH a few times, and it's always a wonderful experience. I made my debut in 2016 in the Barrie Kosky production of The Nose, which was an amazing project to be involved in. Talk to anyone about it, and they'll probably mention the chorus line of giant dancing noses.
I've now covered on three operas at the ROH since then, and each project has been totally different. One thing that remains constant is that the ROH is a truly splendid place to work – you're always treated in a welcoming, professional manner, and they help enable you to give your absolute best performance. I'm back this Autumn covering in Death in Venice, and am very much looking forward to it.
2.) How did you become a singer?
I started singing as a boy, and never really looked back. Growing up in Canada, I was a treble at St. Michael's Choir School in Toronto. When I was 11, I joined the Canadian Children's Opera Chorus, which is the youth chorus for the Canadian Opera Company. I took part in some wonderful productions as a child, and the first opera in which I sang, Tosca, I was lucky enough to be chosen to sing the role of the Shepherd Boy. Over my time with the CCOC, I took part in many productions as well as collaborations with the National Ballet of Canada; my treble swan song was singing the title role in Amahl and the Night Visitors.
After my voice changed, all I really wanted to do was sing, so I started my studies at the Faculty of Music at the University of Toronto. My teacher was Lois McDonall, a Canadian soprano whose career had largely been in the UK and Europe. She suggested that with my voice type that I really should be in the UK, so I transferred to the Royal Scottish Academy of Music and Drama to finish my studies. I completed my Masters degree after two years there, and wanted to stay in the UK, so I took up a Lay Clerkship at St. George's Chapel, Windsor Castle, where I stayed for three years.
I was then appointed to the BBC Singers, the full-time professional choir of the BBC; I had so many wonderful experiences with them, and was introduced to an extensive repertoire, from ancient music to the-ink-is-still-drying commissions. You never knew what was going to be on the music stands week to week, so it certainly kept me on my toes!
After three years at the BBC, I went freelance, and have been ever since. I started out my career singing a lot of early music, so worked with most of the big British groups in the field. I always dabbled in opera, and over the years, the balance has tipped from concert work to more opera, and I absolutely love it. No two weeks are ever the same, but it makes for quite an interesting existence.
3) What makes you happy?
First and foremost, being a father makes me happy. My daughter is six, and watching her grow and develop and find passions of her own has been a delight. I also find baking and cooking extremely relaxing – coming up with delicious and healthy things for my family to eat certainly makes me happy. As a stereotypically middle-aged man, I have also developed a serious obsession with sourdough baking, and as I type, I have two loaves of bread and a load of sourdough bagels proving. Spending a morning in the kitchen working dough certainly ticks a lot of boxes for me as well, as Facebook friends and Instagram followers will, no doubt, be aware…
4. What are your passions in life?
My greatest passion has always been music. I grew up singing, and performing in operas, so music has made a huge impact on my life. On days when I'm feeling down, I can listen to old recordings of music and performers I love to make me feel better. One someone says they're "not really into music," I simply can't comprehend it.
My other passion is family life. I don't always get to spend as much time with them as I might like, and we often have to postpone celebrating various occasions due to work, but I'm truly a homebody. This year, we celebrated 21 years of marriage, and of course we can't actually celebrate on the day, but will find the time to mark the occasion appropriately.
5. How do you juggle being a singer & a dad?
It's not always easy, to be perfectly honest. Last summer when I was making my Glyndebourne debut, I was away for eight weeks between the principal and cover rehearsals periods, which was hard. It makes things tricky for my wife being solely responsible for school and extracurricular activities.
In the opera world, you often don't have your schedule until the Friday of the preceding week, so planning becomes tricky. Then there are often daily amendments to contend with, so flexibility is a must. It's not always perfect, but you do what you have to in order to make it work.

6.) What are your career highlights?
Early on in my career, I sang the title role in Rameau's Platée under Jean-Claude Malgoire, who sadly passed away last year. It was an amazing experience, and I ended up collaborating with him a number of times over the years. Singing the Monteverdi Vespers of 1610 in St. Mark's Basilica in Venice with the Gabrieli Consort also sticks out in my mind.
Making my debut firstly at the Royal Opera House in The Nose, and having the opportunity to sing on that stage, and then making my debut at Glyndebourne singing in Der Rosenkavalier were experiences I never thought I would be lucky enough to have. I feel very fortunate to have performed in the amazing places I have over the years.
Another experience that sticks out in my mind was when from I was young, I attended a course with Diane Forlano at the Britten-Pears School in Aldeburgh. She was good friends with the tenor, Anthony Rolfe-Johnson, who had always been a huge hero of mine. He visited the school and I had a session with him there, and then ended up having a couple of coachings with him in London. He was a giant in the musical world, but was such a kind and generous man, and had some very helpful things to say when I worked with him.
7.) What role would you love to sing?
That's a tremendously difficult question! There are lots of roles I'd love to revisit: Bajazet in Tamerlano, Basilio and Curzio in Le Nozze di Figaro, Platée, Tacmas in Les Indes Galantes – they've all had various effects on me, and it would be interesting to go back a see how I feel about them now. New roles are always a challenge to learn and inhabit, and something I relish doing.
I'd love to sing Aschenbach in Death in Venice; such a complex character, with wonderful music to sing. On the opposite end of the spectrum, I'd like to sing Arnalta from L'incoronazione di poppea – the role allows for comedic turns as well as the stunning aria, Oblivion soave. That's quite a range to navigate1
8.) What do you want to do next?
Since the birth of my daughter, my work has mostly been in the the UK. As she's now getting bigger, I'd like to do more work abroad – it's always an adventure doing contracts away. You often make good friends, and get to spend time with like-minded people making wonderful music. What more could one ask for?